I'm having some problems. Like, I have nothing...nothing specific anyway. I'm totally boring right now.
I can do like a
TMI
themed
Thursday, yeeesssss??
Sounds fun? I think so.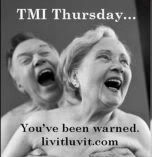 ...see?

It's coming back to me now. I needed that.

Are the winter blues getting to you?
Any tips on how to beat them??
Leave them in the comments...I could really use some advice!
Bye for now...I love you.