About Me
Washington, DC, United States
I'm Shandi. I hope you like it here. I don't say much with words...but instead I speak to you with music, images, and by showing you everything i love in art and fashion. if you follow me, i will follow back and we can feed off of eachother. i love comments and feedback. thank you for coming. please stay.
View my complete profile

Sunday, February 28, 2010
Is it weird that I cried today while looking at the works of late polish artist Zdzislaw Beksinski?
That may seem a little strange considering the nightmarish qualities of his creations...like, why would someone of right mind be moved by images so frightening, yea? I don't know...but for me, I felt the pain of a child living in war, the silence of a gagged soul, the fantasy of a post apocolyptic world lurking with aliens, demons, zombies and skeletons.
Beksinski did not title any of his works and claims that there was never a reference or a meaning in relation to his paintings. He also didn't care to know how they were interpreted by his fans and followers. The artist even went as far as burning certian pieces of his own art in his backyard because they were "too personal". Although I find it hard to accept that these beautiful paintings have no story, I like that I get to make up my own meaning...imagine my own story.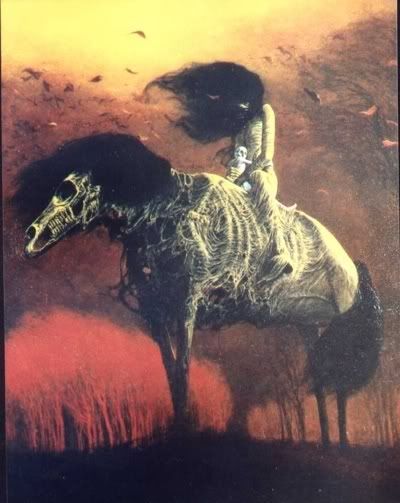 Beksiński was never formally trained. He hated silence, and always listened to classical music while painting.
Zdizislaw Beksinski was murdered in his home on Febuary 21st, 2005 by the teenage son of his longtime friend and caretaker after refusing to loan the boy some money.
Who is your favorite artist?
Thursday, February 25, 2010
Today, the friends and family of our beloved Lee Alexander McQueen pay their last respects during his funeral in London. We will miss you and your genius. His latest collection is expected to show in Paris, early March...I can't wait.
Attendants included Kate Moss, Lady GaGa and Stella McCartney.
Check out this collection for McQueen's secondary lable
McQ
...it was originally supposed to be released on the day of his death announcement.
By:

Shandi
2 comments:
Links to this post

**UPDATE: It's noon and I just realized it's Thursday...not Wednesday. Sorry**
Some pieces in this collection were for me a little "old" but I really liked the sheer fabrics (my favorite trend right now) and all the sweet outerwear. Of course...I did NOT like the fur...c'mon people! Faux fur looks just as good, doesn't it?? Do people really enjoy wearing death? Stooooopid.
Hello everyone. Hello Wednesday. Hello internets. It's been a few days...hope you're well.
No?!? Well, can you?
I would love you forever. :)
...to prove my love...I give you Anthony Bordain...looking like a damn fool:
Also, I don't usually do this but have you ever heard of
SWAGBUCKS
? I hadn't until a friend told me that he uses SWAGBUCKS in place of google to search and he had already earned some prizes doing so. I checked it out and I love it. It is so easy to earn bucks...like really really easy. I search normally and I earn atleast 10 bucks a day. Here's a list of things I have gotten so far with my earnings:
1. $5 Ding gift card...they sell skins for your laptop, iPhone, xbox, etc....
2. 12 song downloads from iTunes.
3. Chapstick.
4. 50 UltimatePoints...I'm a gamer...
5. 1 year subscription for ELLE magazine.
I have only been on SWAGBUCKS for like, a month! So, yea I am serious about recommending you sign up and start earning...I wouldn't post this on my blog if I didn't think it was super cool. Today is also their 3 year anniversary so they're giving out more bucks than usual. I earn bucks if you sign up through my link so hurry...do it!
ok...so one more funny then I will be about my way...this commercial was one of the winners of the Doritos Crash The Superbowl Ad Contest. I've watched it so many times: